Essential Words
InsideOut's Louder Than a Bomb Virtual Youth Poetry Festival Hub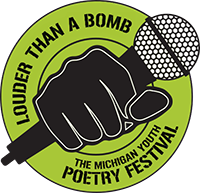 The Coronavirus may have prevented us from hosting our annual festival in Detroit this year, but it didn't shut us down! Essential Words: Louder Than a Bomb Virtual Youth Poetry Festival was InsideOut's online offering of writers first aid, facilitated workshops, and digital open mics — all created for teens (ages 13-19) and modeled on our award-winning after-school program Citywide Poets.
And we've put it all here in InsideOut's Essential Words Hub. Revisit some of our favorite writing prompts and dig into a few new, guided lessons designed to help teens expand their literary vocabulary, discover new writers, and add to their toolbox of creative expression through improv and physical movement. Although we can't match the magic of our in-person sessions, what waits for you below will bring you pretty close in the meantime. Write on + be well.
DISPATCHES FROM HOME is a peek into the rich, creative lives of teens served by InsideOut Literary Arts during the COVID-19 pandemic. Here you'll find writing from InsideOut's award-winning after school program (Citywide Poets) and this year's virtual youth poetry festival (Essential Words).
Both programs, hosted entirely online Spring and Summer 2020, are fierce testaments to the social justice community of youth and adults we've aimed to build over 25 years. The generous contributions of poets like Darius Parker and Catharine Batsios are only a sample of the care and advocacy with which we write alongside the voices of the future — voices from Detroit to Chicago and all the way down to Durham, NC.
CONTRIBUTORS
Akira K. | Almand Martin, Jr. | Birch Saperstein | Cassidy Howard
Catharine Batsios | Claire Swadling | Darius Parker | De'Ja Jones
Erin Conley | Ja'mari McLawery Jaelah Glenn | Katja Rowan
Laila King | Shannon Conley | Symone Jones | Tianna Jones
INTRODUCTIONS BY
Suma Karaman Rosen & LaShaun phoenix Moore
How sharp are your five senses? Reconnect with the memories and tiny details that inspire your story, no matter what form your storytelling takes. With these open-ended writing prompts, we encourage you to simply put pen to paper and see what happens.
If you missed LTAB Online in May, you're in luck: Developed by InsideOut's talented Writers-in-Residence, these guided lessons include everything you need to re-create a meaningful exploration of writing craft through a social justice lens. Each lesson includes a glossary of literary terms, example texts from some of our favorite poets, and helpful links to supplemental material.
DETROIT CREATIVITY PROJECT
A big part of the Louder Than a Bomb festival experience are the dynamic performances that accompany the raw poetry and storytelling of young writers. Hosted by our partners at Detroit Creativity Project, these video exercises in improvisation are designed to help youth use their poetry to take creative risks on the stage and on the page. Click here for a full playlist of DCP improv exercises you can do at home, example texts from some of our favorite poets, and helpful links to supplemental material.
InsideOut's Louder Than a Bomb Youth Poetry Festival is made possible with generous support from


Essential Words Final Stage is supported in part by Poets & Writers, thanks to a grant from the Hearst Foundations.