Louder Than a Bomb: The Michigan Youth Poetry Festival (LTAB) is the largest annual convening of young writers in Michigan, dedicated to promoting artistic growth through peer engagement, team competition, and the celebration of youth voice.
During LTAB, groups of high school-aged poets engage in a robust schedule of slam poetry competitions, writing craft and performance workshops, open mics, and more. By the end of the weekend, participants will have pushed their writing to the limits, while deepening relationships with their peers in some of Detroit's most treasured cultural institutions.
===
As quarantines and other health recommendations continue to develop around COVID-19, all in-person festivities and performances for Louder Than a Bomb 2020 are canceled. Instead, we hope you'll join us for virtual LTAB offerings on various collaborative and social media platforms May 1-8, 2020.
In the meantime, follow us on Instagram at @citywidepoets for daily writing prompts and poems, plus sign up for LTAB virtual programming updates.
===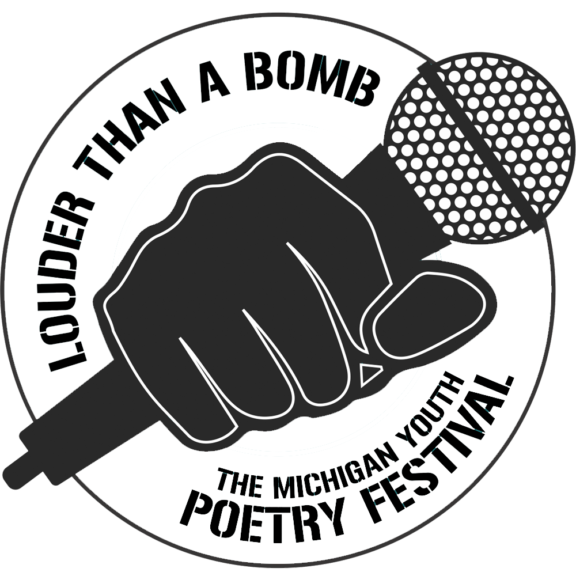 FREQUENTLY ASKED QUESTIONS
What is Louder Than a Bomb: The Michigan Youth Poetry Festival (LTAB)?
LTAB is a weekend-long poetry festival for high school-aged writers (13-19) in Michigan. Poets get a chance to compete in slam competitions, attend creative writing workshops, and meet other young writers from around the state
What is a poetry slam?
Simply put, poetry slam is the competitive art of performance poetry. It puts a dual emphasis on writing and performance, encouraging poets to focus on what they're saying and how they're saying it. In competition, the poets are judged by members of the audience. Typically, the host or another organizer selects the judges, who are instructed to give numerical scores (on a 0 to 10 or a 1 to 10 scale) based on the poet's content and performance.
How many poets make up a crew?
Non-competing crews may be as small as two participants. To compete, crews require at least four poets and may have as many as eight, plus up to two alternates (10 participants total). Alternates may participate with a crew but may not compete unless one of the other eight crew members is unable to attend or participate for the duration of the festival.
How do I prepare my team for competition?
First, plan to register before February 14. Early Bird Registration includes three lesson plans designed to your crew get competition material on the page. Next, plan to attend our pre-season prep session, Louder Than a Lunch, on Saturday, February 15 at the Museum for Contemporary Art Detroit . This a great opportunity to learn more about LTAB 2020 programming, slam competition, registration, and festival culture. InsideOut's LTAB organizers are also available via email to answer questions about the upcoming festival and competition. Email rose@insideoutdetroit.org.
How many poems should my crew be prepared to share?
Each bout includes five rounds of competition. These rounds consist of 4 individual poems and 1 group poem that requires four poets to be on stage at once. Your crew should have a minimum five poems ready to go.
Can I bring students without being a part of the poetry slam competition?
Yes! We offer a Non-Competing Crew registration that allows groups of high school students to participate in all festival events, attend all workshops, and receive LTAB swag. Though not directly competing, our non-competing crews are invited to serve as judges, calibration poets, and audience members during the poetry slam competition.
Who sponsors LTAB Michigan?
LTAB is a public program presented by InsideOut Literary Arts, Detroit's oldest and largest literary nonprofit. Funding changes year-to-year and often takes the effort of a coalition of grants, sponsors, in-kind services, and individual donors. LTAB 2020 is made possible through support from The Skillman Foundation and Mercedes-Benz Financial Services.
My crew is located outside of Detroit. Can you support transportation?
Unfortunately, transportation must be handled independently by each crew. There is ample street and structured parking around the facilities for LTAB. If your school or organization needs invoices, formal letters, or permission slips in order to attend LTAB, festival organizers are able to provide those upon request.
Does InsideOut provide lodging for traveling crews?
Lodging for LTAB 2020 has been reserved at Hostel Detroit for festival goers. However, individual crews are responsible for their own booking and payment, and rooms are available on a first come, first served basis.
Is LTAB open to the public?
LTAB 2020 poetry slam competitions, the MC Olympics, and the Grand Slam are open to the public. All youth development activities, writing workshops, meals, and open mics, require advance registration.