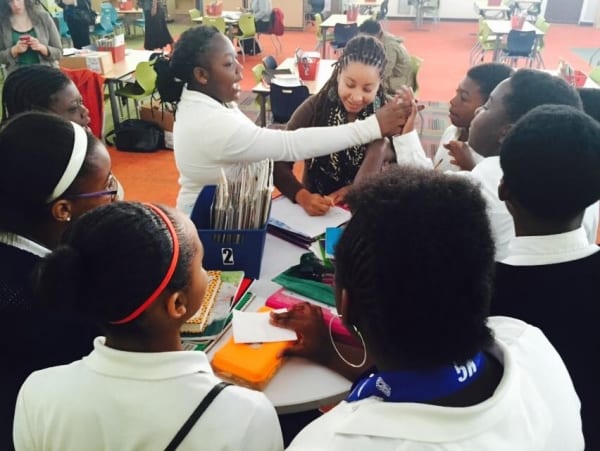 If you are a writer interested in inspiring young people to become more confident and creative writers—to find the poetry and stories inside themselves—then please keep reading.
Our Work
Since its founding in 1995 by former Detroit Public School teacher Dr. Terry Blackhawk, InsideOut Literary Arts has inspired students to think broadly, create bravely, and share their voices with the wider world. Guided by accomplished writers and spoken word artists who teach from the practitioner's expert point of view, students learn the craft of writing and experience the satisfaction of becoming published authors through a range of creative writing programming in classrooms, after school and in community settings.
Our Opportunity
InsideOut engages students in the pleasure and power of reading and writing and helps them discover their voices through a weekly writer-in-residence program in their classroom which culminates in the publication of a school literary journal. Evaluations show that InsideOut has a statistically significant impact on students' classroom achievement, self-efficacy, enthusiasm for reading and writing, willingness to revise, understanding of narrative structures, creative use of language, and more.
InsideOut Writers-in-residence serve as Teaching Artists and:
develop and teach engaging writing workshops that value the voice of students in the writing process. Lessons explore a variety of themes as well as elements of craft and form and expose students to the work of a diverse array of contemporary and classical authors.
consult with classroom teachers to enhance curricular goals.
respond to student writing and assist students in revising their work for publication.
transcribe and format student work for a professionally printed school publication.
attend orientation and professional development trainings during the course of the year.
track weekly student attendance and report monthly on classroom plans and student outcomes.
Writer-in-residence is a part-time position. In-School Residencies generally require 3-6 hours of work per week during the school day (8 AM – 3 PM). Residencies tend to begin in the late fall (late October-November) and conclude in June. Compensation starts at $45 per hour of instruction.
Qualifications
Bachelor's Degree
Skills, training, and professional experience as a writer
Teaching experience and interest in working with diverse populations
On-going commitment to strengthening teaching practice through feedback, professional development, and collaboration
Bi-lingual proficiency in Arabic or Spanish a plus
How To Apply
InsideOut will accept application materials through July 31st. Interviews will take place in August and September for advancing candidates. All materials are kept on file for at least one year. No calls please. 
Application requirements:
Cover letter that includes your approach to teaching creative writing to youth
Resumé demonstrating your experience and training as both a writer and teaching artist (if applicable, please note fluency in languages other than English)
A sample lesson plan for the grade of your choice
2-3 page creative writing sample or links to creative work
The names and contact information for two references, at least one of which should be familiar with your teaching abilities
InsideOut is an equal opportunity employer and has a strong commitment to equity and inclusion.
Please submit your complete application by email.