The InsideOut Literary Arts Blog
"From the artist who is shivering and sharing their work for the first time in front of a live audience, to the seasoned teen who has grown wings and sharp teeth, the raw integrity of the words and performances will leave you clamoring to hear and DO more."
The Detroit Youth Poetry Slam gives young performance poets the opportunity to voice their fresh perspectives on issues that affect us all.  Sometimes as a seasoned writer (and member of the audience) tunnel vision can settle in and we can get stuck in our opinions.
There hasn't been one Detroit Youth Poetry Slam that I've attended that hasn't left me in tears of awe with the critical and poignant thoughts of these performers. I've heard stories from these artists that celebrate their ancestors, highlight their navigation through love, explore their relationship with their family, and challenge systemic racism and poverty.
I've heard radical hopes for changing the world in and around them and I've walked away fully relieved that as I grow older, I'll be in good hands with these young revolutionaries.
(View more performances from last year's grand slam)
Attending a Detroit Youth Poetry Slam is not for the faint of heart. These babies don't hold back any punches and fully weave magic with their use of language and movement.  They approach their work and the microphones with a fearlessness that I hope guides them through every facet of their lives.  From the artist who is shivering and sharing their work for the first time in front of a live audience, to the seasoned teen who has grown wings and sharp teeth, the raw integrity of the words and performances will leave you clamoring to hear and DO more.
As a community activist and supporter of the arts, attending the slam provides me with a clear barometer of what's important to young people and helps direct my focus on where my time, talent and resources are needed to join them in leaving a great karmic footprint behind for artists and activists to come.
-La Shaun Phoenix Moore
2018 Detroit Youth Poetry Slam Coach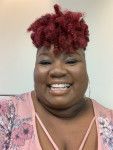 Join us for the Qualifying Slams on March 10th + 17th, and the Grand Slam on Thursday, March 21st!
The power of young voices never ceases to amaze me. There is just something so magical about witnessing authentic self-expression, about [...]