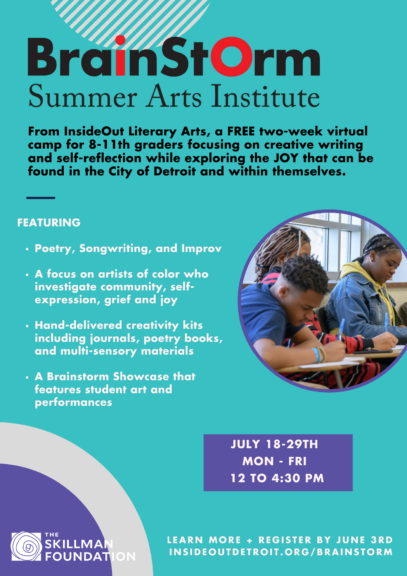 InsideOut's 2022 Brainstorm Summer Arts Institute is a virtual, two-week-long deep dive into creative writing and self reflection. The topic for this year is Grief and Grace: Writing Through It. Students will be provided with a writing packet including a personal journal and a selection of books chosen by esteemed facilitators LaShaun phoenix Moore and Alana Gracey. Genres will include poetry, prose, songwriting, and improv. Through these methods, students will investigate artists who grapple with both grief and joy, reflect on their communities, and create their own writing to be published in an online anthology of youth work.
This program is FREE and open to students entering 8th-11th grade in the fall of 2022.
Brainstorm Summer Arts Institute features
Creativity Kits (mailed to all participants) including personal writing journals, poetry books, and multi-sensory materials
Hands-on activities and performance opportunities
Interactive connections to music and visual arts
Guided opportunities for independent, outdoor engagement
SLOTS ARE LIMITED. Register today to reserve a slot!
This program is made possible by