Citywide Poets sites for the 2023/24 school year are kicking off with virtual and face-to-face options and will run from September 2023–June 2024!
What is Citywide Poets?
Citywide Poets is InsideOut's award-winning afterschool program, providing teens with a literary community to collaboratively explore their lives through the written and spoken word.
By participating in intensive artistic mentorship, publication, and performance opportunities, Citywide Poets cultivates a youth-driven narrative for the future of Detroit, rooted in their creativity and artistry.
Program Highlights
Weekly Sessions
Professional Writers lead weekly writing workshops where teens have the opportunity to create new pieces, improve their writing, discover published and performing writers, and bond with peers.
Visiting Writer Series
Students meet and work with visiting artists who have extensive publishing and/or performance experience at monthly workshops and open mics.
Publication
All active Citywide Poets are invited to be published in our annual program-wide student poetry anthology.
Performance Troupe
Students can participate in an annual competition to join our Performance Troupe, which provides additional weekly artistic mentorship and public performance opportunities.
Youth Advisory Board
Interested students can develop leadership and professional skills by presenting youth-led programming and influencing the design of InsideOut's programs.
Annual Scholarship
High school seniors who participate in Citywide Poets are eligible to apply for the CWP Scholarship, which covers college tuition for up to $25,000 per year, for up to four years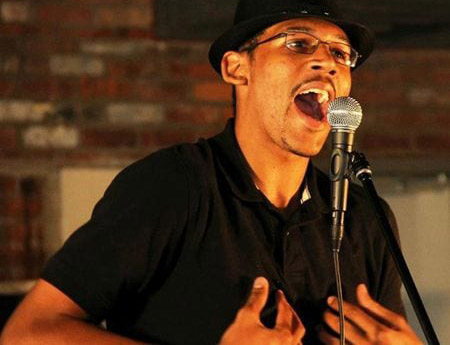 Citywide Poets Locations for the 2023/24 School Year
Public Locations (free and open to all teens)
Virtual Location via Zoom with La Shaun phoenix Moore, Wednesdays from 4-6 PM
Durfee Innovation Society (2470 Collingwood St., Detroit), Thursdays from 4-6 PM
Detroit Public Library Main Branch (5201 Woodward Ave, Detroit), Wednesdays from 4-6 PM
School-Based Locations (free and open to all teens who attend the school)
Arts Academy in the Woods
Cass Technical High School
Denby High School
Detroit Enterprise Academy
Detroit Edison Public School Academy
Detroit School of the Arts
Fordson High School
Hamtramck High School
Jalen Rose Leadership Academy
Marygrove
Oak Park High School
Southeastern High School
Thurston High School
Other schools to be listed as they launch
For more information contact Citywide Poets Coordinator Justin Rogers by email or call 313-577-4601.