Citywide Poets sites for the 2020/21 school year are kicking off 100% virtually and will run from October 2020 – June 2021!
The program is 100% free to participants.
What is Citywide Poets?
Citywide Poets is InsideOut's award-winning afterschool program, providing teens with a literary community to collaboratively explore their lives through the written and spoken word. By participating in intensive artistic mentorship, publication, and performance opportunities, Citywide Poets cultivates a youth-driven narrative for the future of Detroit, rooted in their creativity and artistry.
Citywide Poets meet weekly from October – May in sessions led by local writers in both high school and open community sites. Participants hone craft, build performance skills, and engage in the larger artist community of Detroit. Citywide Poets is free and open to interested teens.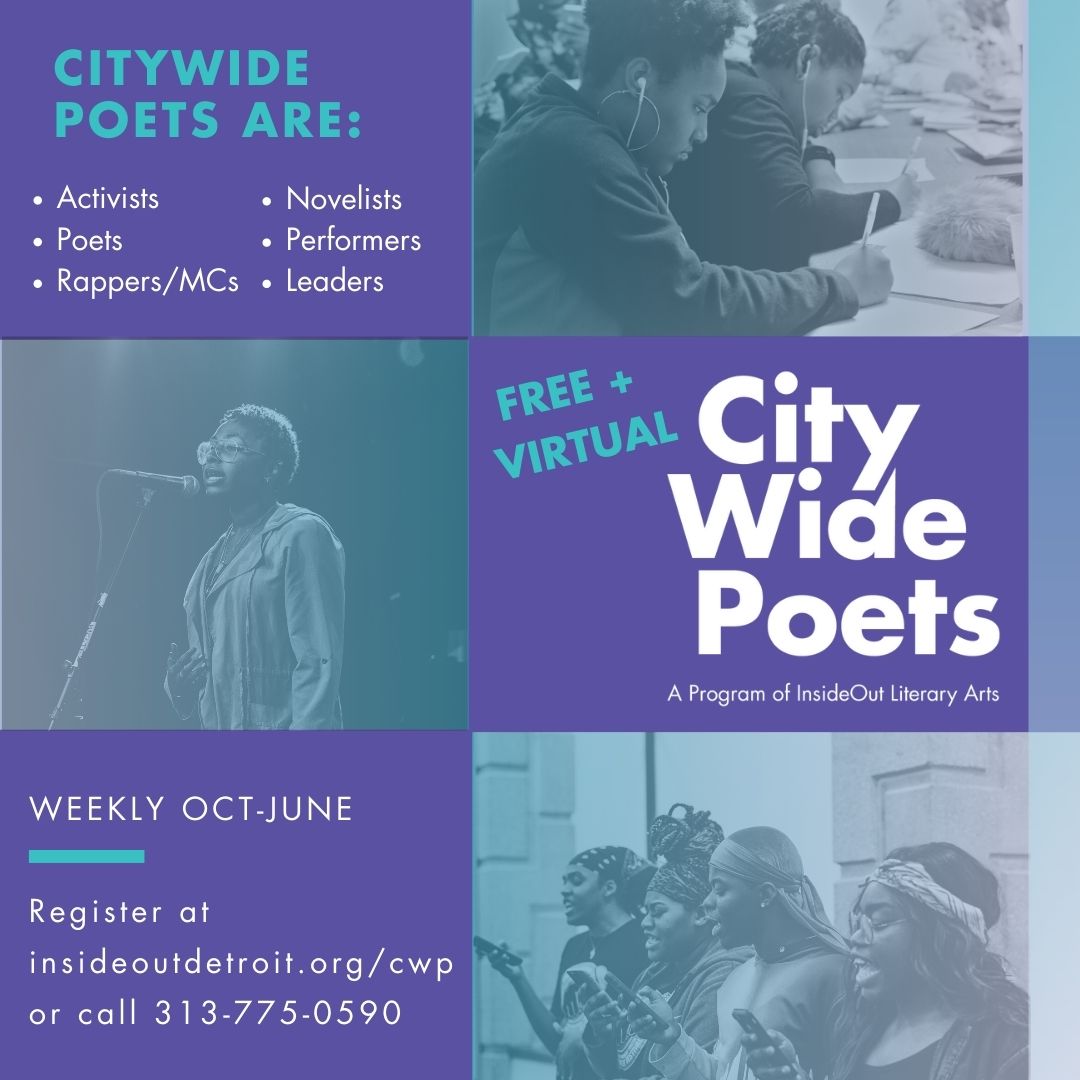 Citywide Poets sites for the 2020/21 school year
included:
Open Citywide Poets Site
(free and open to all teens)
Public Site #1 with Mahogany Jones via Zoom, Wednesdays from 4-6 PM
Public Site #2 with Brittany Rogers via Zoom, Thursdays from 3:30-5:30 PM
Public Site #3 with Bayan Founas via Zoom, Saturdays from 1-3 PM
School-Based Citywide Poets Sites
(free and open to any student who attends the school listed)
Bates Academy
The James and Grace Lee Boggs School
Cass Technical High School
Clippert Academy
Detroit Edison Public School Academy
Detroit School of Arts
Jalen Rose Leadership Academy
Marygrove P-20 Campus
Renaissance High School
Thurston High School
Westfield Preparatory High School
For more information contact Citywide Poets Coordinator Justin Rogers by email or call 313-577-4601.