[fusion_builder_container hundred_percent="no" equal_height_columns="no" hide_on_mobile="small-visibility,medium-visibility,large-visibility" background_position="center center" background_repeat="no-repeat" fade="no" background_parallax="none" parallax_speed="0.3″ video_aspect_ratio="16:9″ video_loop="yes" video_mute="yes" border_style="solid" flex_column_spacing="0px" type="legacy"][fusion_builder_row][fusion_builder_column type="1_1″ layout="1_1″ background_position="left top" background_color="" border_color="" border_style="solid" border_position="all" spacing="yes" background_image="" background_repeat="no-repeat" padding_top="" padding_right="" padding_bottom="" padding_left="" margin_top="0px" margin_bottom="0px" class="" id="" animation_type="" animation_speed="0.3″ animation_direction="left" hide_on_mobile="small-visibility,medium-visibility,large-visibility" center_content="no" last="true" min_height="" hover_type="none" link="" first="true"][fusion_text columns="" column_min_width="" column_spacing="" rule_style="" rule_size="" rule_color="" hue="" saturation="" lightness="" alpha="" content_alignment_medium="" content_alignment_small="" content_alignment="" hide_on_mobile="small-visibility,medium-visibility,large-visibility" sticky_display="normal,sticky" class="" id="" margin_top="" margin_right="" margin_bottom="" margin_left="" fusion_font_family_text_font="" fusion_font_variant_text_font="" font_size="" line_height="" letter_spacing="" text_transform="" text_color="" animation_type="" animation_direction="left" animation_color="" animation_speed="0.3″ animation_delay="0″ animation_offset=""]
Write with us.
Whether you're a published writer or have never written a haiku, join us during National Poetry Month for the InsideOut Write-A-Thon!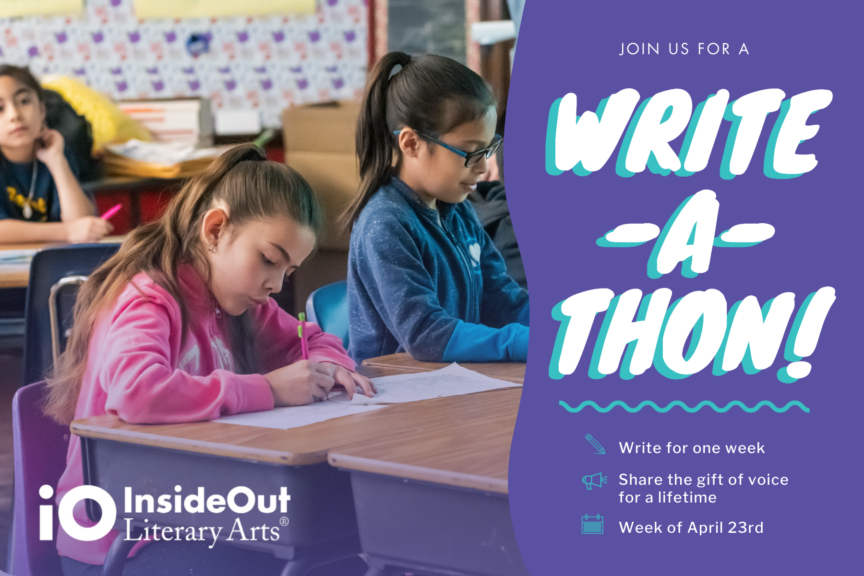 Commit to a writing goal every day during the week of April 23rd — a poem, an email to a friend, a family recipe, anything you can imagine! — and then ask for your community's support. All proceeds from your Write-A-Thon benefit InsideOut's transformative creative writing programs that launch Metro Detroit students off the page and into extraordinary lives.
All Write-A-Thon participants receive a daily encouraging email from InsideOut's expert coaches, including the inspiring words of InsideOut student poets and writing prompts to jumpstart your creativity. You'll have the opportunity to experience our vibrant community through lively in person events the week of the Write-A-Thon. Or, you can fly solo and celebrate your progress using the #iowriteathon hashtag.
As you write and raise funds for Detroit youth, you can receive unique benefits to thank you for your crucial support. 
Most of all, we hope participants will experience the many benefits of what writing can do, from mental clarity and focus, to resilience and even improving immune function.
To support the Write-A-Thon you can:
Sign up to write beginning March 20th
Support a writer's fundraiser

Make a gift to the general fund

Spread the word!
[fusion_separator style_type="single solid" hide_on_mobile="small-visibility,medium-visibility,large-visibility" class="" id="" sep_color="" top_margin="" bottom_margin="" border_size="" icon="" icon_circle="" icon_circle_color="" width="" alignment="center"][/fusion_separator]
Frequently Asked Questions
Who can participate?
Anyone, anywhere – whether you consider yourself a writer or not! If you want to support Detroit's young people, if you're passionate about access to arts, if you want to meet your own writing goals, then the Write-A-Thon is for you.
You can register here.
Why should I join the Write-A-Thon?
The Write-A-Thon is an opportunity for all of us to come together, to focus on the power of writing to heal, to bring joy, and to grow. 
Our community (that's you!) is full of passionate people working together to offer unique opportunities for young people to learn how to use writing as a coping tool, a way to build their skills, and a platform to share their voices.
Your participation in the Write-A-Thon not only supports our programs (free to all youth who participate) but demonstrates to our young people that they have a community of people who value their voices and ideas.
What should I write?
The Write-A-Thon is for everyone to connect to any of the many ways writing touches and enriches our everyday lives. Your week-long goal can be entirely unique to you. You might:
rekindle friendships through letters

keep a journal

write letters in support of causes you care about

document family recipes or stories

work on your novel

use our daily writing prompts to try something new!
Your goal might be time-based (20 minutes a day) or length-oriented (a page, 500 words, etc.). Make your goal as unique as you are, and then ask others to support your weeklong commitment to write.
How long do I have to fundraise for?
You can begin fundraising on Monday, March 20th. Donations can come through your profile until 11:59 PM on Saturday, April 29th.
How do I sign up?
Sign up begins on Monday, March 20th.
Step 1: Head over to InsideOut's Write-A-Thon event page and click "Join This Event" at the top of the page. It will prompt you to sign in. You can use Facebook, Google, or your email address to set up a Mightycause Account.
Step 2: Once you are registered you'll see a window that says "Join This Event." Click "Start A Fundraiser" then "Build Your Fundraiser."
Step 3: "Publish" your fundraiser page immediately using the template provided (be sure to add your writing goal!), or customize your page by:
Creating a unique title

Setting a personal fundraising goal (we picked $750, but base your goal on how many people you know who can contribute, how much your largest donation might be, and how much time you have to dedicate to asking for donations).

Adding a fundraising image/video (consider showcasing you or your writing project).

Link your Instagram account to the page if you want to provide updates there.

Update your supporters on writing progress with the "Updates" tab — share your writing, encourage your supporters, and announce new goals.

Customize the URL so it's easy to remember. Click the "Settings" gear in the left-side toolbar and edit away! (example: writingfordetroit, johnswriteathon)
Make sure to click the "publish" icon that appears in the toolbar on the left-hand side of the screen when you are finished.
Step 4: Share your page with your network! You can share on a variety of social media platforms or email. Tell your friends, family, coworkers, neighbors, and mailperson why you support InsideOut and why they should too. After you make a fundraiser, you'll receive an email from InsideOut with helpful materials for drumming up support, including email templates and images for social media.
Do you have more questions about Mightycause? Contact John Randolph for a 1-1 tutorial on setting up your fundraiser.
What are the Write-A-Thon benefits?
All Participants will receive daily encouraging emails from InsideOut expert coaches including prompts to invigorate your writing and student poems to inspire. If you raise the following dollar amounts, or receive donations to your personal fundraiser from the designated number of donors, you will receive the following as a Thank You:
$500 or 10 Donors – InsideOut tote bag AND a copy of Inside My Pencil or To Light a Fire
$750 or 20 Donors – Invitation to a virtual InsideOut performance with featured alumni artists (+ all lower level benefits)
$1,000 or 30 Donors – Shout out on social media as InsideOut Champion of Youth Voice (+ all lower level benefits)
$1,500 or 40 Donors – Letterpress broadside of an InsideOut student poem in collaboration with local artists at Signal Return (+ all lower level benefits)
I want to support InsideOut but I don't want to write for a week. What can I do?
You can make a tax-deductible gift to support a writer— scroll through the list of participants and support family or friends! Or simply make your gift on the Write-A-Thon page and help us meet our goal. Sharing the Write-A-Thon page via social media or email also helps!
[/fusion_text][/fusion_builder_column][/fusion_builder_row][/fusion_builder_container]