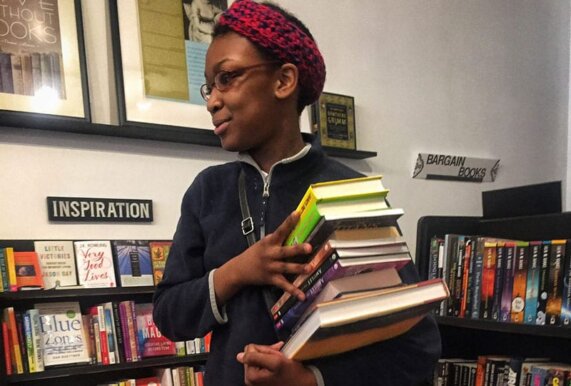 "Poetry is a way for me to just be myself instead of trying to fit in with everybody else. I can be my own rainbow with different colors. Instead of the standard red, orange, yellow, I can be pink, black, and green."
Hear Me Out

Become friends with the poem.

Learn its secrets.

Go on an adventure with the poem.

Learn new places.

I want you to see the inside

of the poem

to see what it truly means.

A poem isn't just a piece of paper.

A poem is a voice, an ear, a leg, a beginning

of a story.
Zuri started her journey with InsideOut in the sixth grade when Mr. Pete taught in her classroom as a part of our Writer-in-Residence program.
"Mr. Pete was my poetry teacher. He got me started with poetry and encouraged me to do it more. Words were what drew me to poetry–how you can describe yourself, your emotions and actions–instead of just using 'I walked,' you could say 'I flew from corner to corner.'"
She explored her connection with her heritage in a poem she wrote while she was in Mr. Pete's class. "I wrote a poem called 'Essence.' It was about Mother Earth and how she was African American and used to be a slave. She passed away so she became the earth to protect other people. My name is Swahili so I feel like it was a part of me to write that. I wanted to express the way I felt about my heritage."
After her time in Mr. Pete's class, Zuri joined our BookUp program, which encourages young people to foster a love of reading.
"After Mr. Pete's class, I joined BookUp because we would read and discuss books. I just LOVE books. Books are my heart….I think I read 5x more books because I was in BookUp. We had Ms. Shawntai. She was descriptive and funny. It was a great environment where I could be my free self."
In high school, Zuri was invited by a friend to join Citywide Poets and it quickly became a community for her. "InsideOut is like a second family. I'm so connected to them."
By being a part of Citywide Poets, Zuri was able to compete in InsideOut's youth poetry festival, Louder Than A Bomb.
"I was nervous at first. I was feeling cold inside and didn't know if I was going to stutter or mess up. But I performed my poem, and it was great. We got first place in the first bout, second place in the second bout, and fourth place in the finals. We were the first team from Communications and Media Arts High School to make it to the finals. It made me feel special and encouraged me to write more. [Now] I want to be an actress, comedian, and poet."
For Zuri, InsideOut allowed her to be unapologetically herself. "Poetry is a way to tell my feelings and just be myself instead of trying to fit in with everybody else. I can be my own rainbow with different colors. Instead of the standard red, orange, yellow, I can be pink, black, and green. Poetry has given me wisdom."