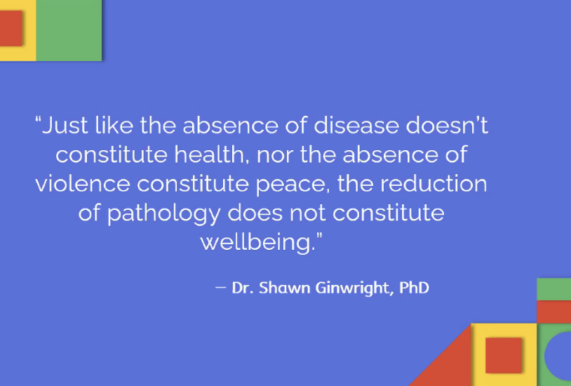 In 2019, the Detroit Free Press found that "ninety percent of teachers and principals across the Detroit Public Schools Community District reported that more than half their students have been impacted by trauma that impedes their learning."
Addressing trauma and the social-emotional needs of our students has always been a high priority for InsideOut. In October 2020, InsideOut staff took part in a series of trainings to learn about trauma-informed perspectives, healing-centered approaches, and how best to incorporate these practices into our classrooms and office.
The training, made possible by a grant from the Ralph C. Wilson, Jr. Foundation, allowed core staff from InsideOut and our partner organization, Just Buffalo Literary Center in Buffalo, New York, to learn from nationally-recognized facilitators and from each other.
Jassmine Parks, InsideOut's Lead Teaching Artist, discusses her experience with the training and shares her insights about why this approach is essential to InsideOut's mission.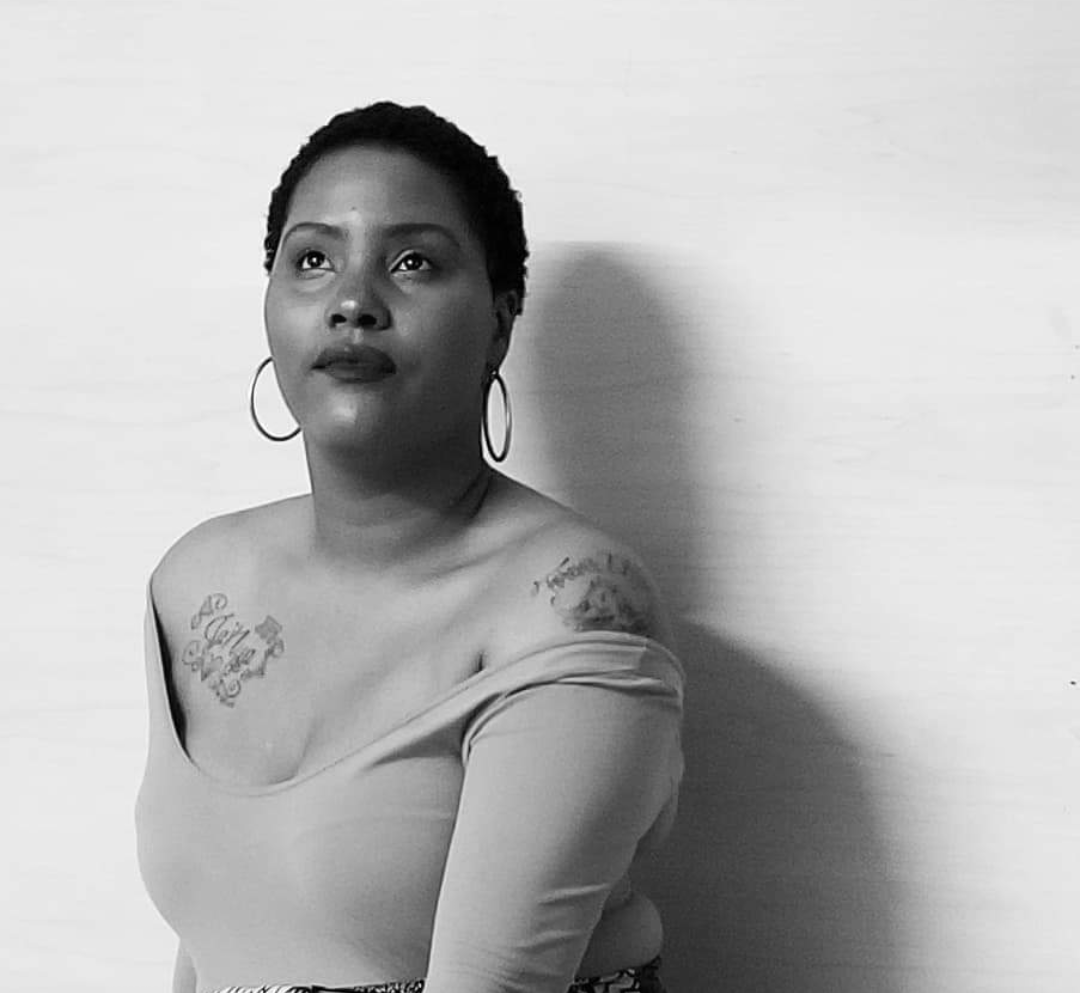 In your own words, what is a trauma-informed perspective?
A trauma-informed perspective is an awareness and acknowledgement that some people have experienced traumatic events in their lives that have shaped their interactions with their world, externally and internally.
Trauma-informed care equips individuals with the knowledge of how trauma manifests in different people, provides solutions to identify and process the trauma, and provides a safe space and tools for agency that empower individuals to move forward through whatever healing practices are best for them.
What was an exciting realization, practice or skill that came out of the training?
I was most intrigued to discuss how to transform the deficits created by trauma into assets by using trauma-informed care as a foundation for healing-centered engagement. Healing-centered engagement shifts the focus from trauma by intentionally promoting strengths-based language. This allows individuals to make space to reflect on the things that are right with them and what they do well through positive reinforcement and introspection, as opposed to solely addressing the trauma and having individuals restricted to reliving or being marked by their trauma continuously.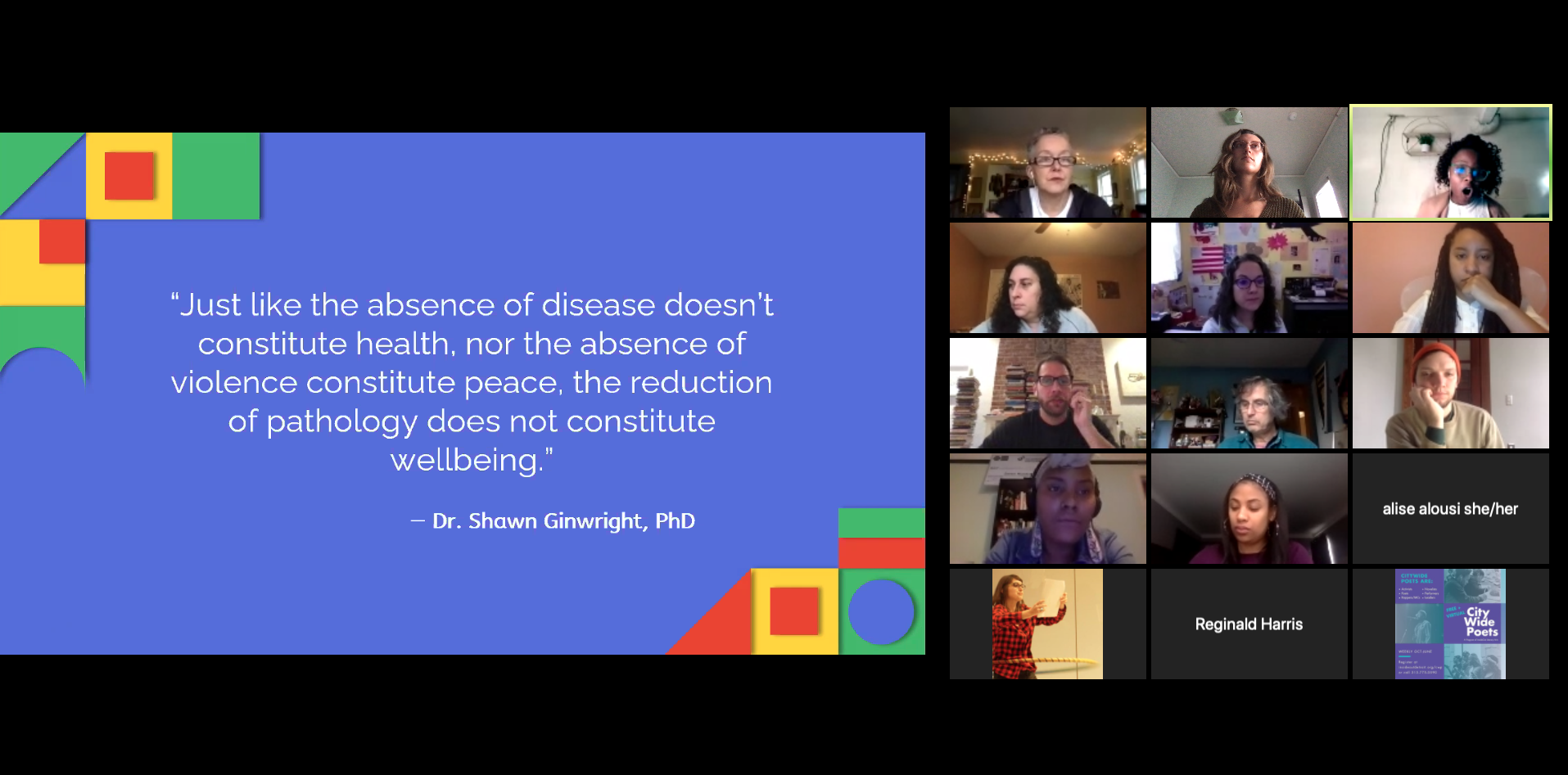 InsideOut and Just Buffalo come together for trauma-informed training, October 2020.
I believe that a literary arts organization, such as InsideOut, is best suited for the work of healing-centered engagement because it encourages authentic written and spoken expression from students by exposing them to professional authors and expanding their contextual knowledge of what motivates characters, real or fictional.
Students are able to translate how a world they read about compares to theirs, and they see not only shortcomings, but the collective human experience of overcoming despite the barriers they encounter. We can encourage students to see that they are a whole person and realize their trauma is only a part of their journey and story.
How do you see InsideOut embodying the lessons of this training in classrooms and as a part of its mission?
InsideOut embodies trauma-informed care and healing-centered engagement in the classroom in many different ways. Teaching artists begin their first session with students creating community norms so that students feel emotionally and physically safe during sessions.
We also employ a variety of strategies to acknowledge the experiences of self and others through community building as well as intentionally presenting, engaging and discussing art, poetry, books, music. We also focus on writing prompts that reflect students' experiences and allow them to challenge and express their perspectives of social and personal realities.
The goal is to empower students to be more aware of themselves, to empathize with other people, and to develop vocabulary that is strengths-based so they can learn how to become the facilitators of their life's narrative given proper space to expand their stories and shape the world they wish to see.