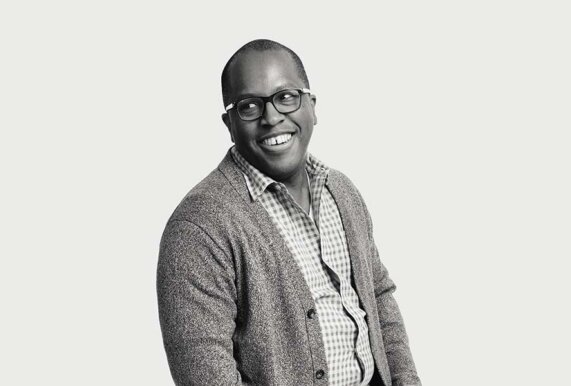 1995-2000:
Michael R. Jackson
Photo Credit: Zack DeZon
"Literally every aspect of my writing career came because a teacher encouraged me."
I'm Michael R. Jackson, and I'm from Detroit, Michigan. I grew up on the west side of Detroit, right off the Southfield Freeway. Growing up for me was pretty normal, average, I guess, meaning I came from a two-parent family household. I had an older brother. I always called us "middle middle-class." My father was a police officer for 26 years and then he retired and started working in the private sector for General Motors as a security consultant. My mother worked in Accounts Payable for American Axle. I just had a normal, baseline childhood. A normal external childhood.
My internal childhood was a little different. As a kid I was very sensitive. I had a creative streak–an artistic streak. I definitely loved to read from a really early age. I was always reading. Always, always, always, always. I didn't like reading kids books for very long. I remember finding The Catcher in the Rye, and I remember when the movie of The Handmaid's Tale came out in 1990 and then my parents got it on VHS. I was so taken by it, and then I found out it was based on an actual novel. And so I read it when I was like eleven years old. It made a huge impression on me.
I came from a very religious household. My mother was the church secretary. My father was an officer of the church. My grandfather was a trustee. My great-uncle was the deacon. My grandmother was a Sunday School teacher. So I very much grew up with this evangelical, Christian stuff, and that was part of the complicated, internal childhood experience.
I was very much involved in the arts. I did a lot of child acting. I kept a journal. Writing in a journal was something that I saw white children do on television: they had diaries and journals. So I just got a notebook and I began journaling. So I was writing my feelings down just because I didn't really get along with my brother at that age, and I felt the only way I could express myself was in a journal. I hid it under my mattress. I hid it like everywhere. But then I got paranoid and I would write things and I would black it out and it's funny because when I'd go back I couldn't remember what I had said. So yeah, lots of hiding of the journals.
When I got into Cass Technical High school, I was writing a lot of poems and short stories because I was reading so much, and I would imitate the writers I was reading. I remember going down to my guidance counselor early on and begging her to let me switch from Photography, which I chose but absolutely hated, to Creative Writing. And I'm so glad that I did that because it was a life-changing choice. This would be 1995. When I switched to Creative Writing, that was the first time that I met Ms. Thompson. I felt like she was one of the few adults in my life who spoke to us like we were adults. I really appreciated that. Ms. Thompson very much nurtured and encouraged free expression. She didn't censor. She would give notes about structural things. She treated the craft of writing and creativity as a real and important thing, and a serious thing, and therefore I took it seriously.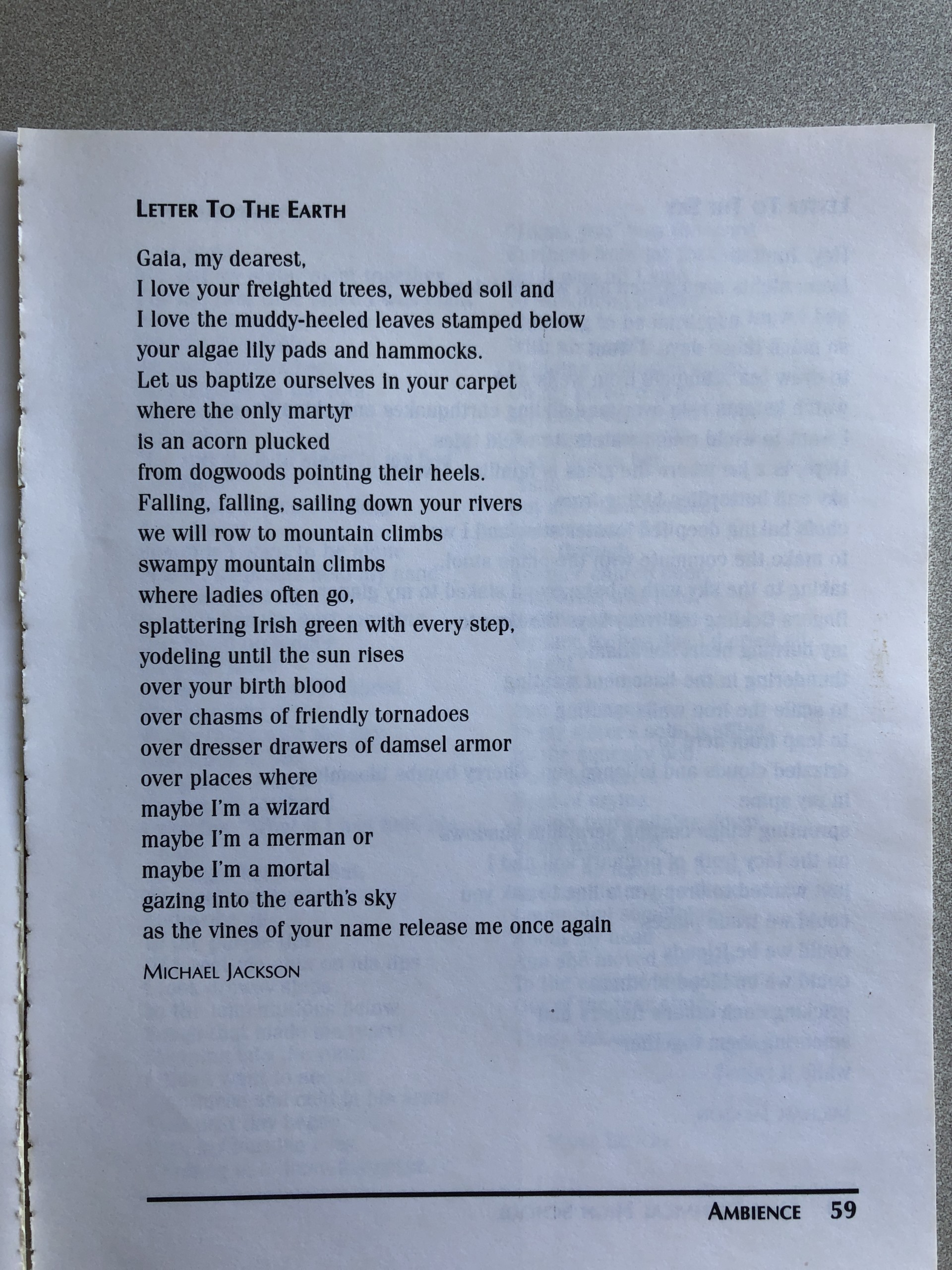 I was really excited when she told us about InsideOut and that professional writers were going to be coming in to work with us. I remember doing writing exercises with all of the Writers-in-Residence I worked with. I have all the old issues of Ambiance (Cass Tech's literary journal, published by InsideOut). I still have them.
I have folders full of my old writings from that time. There's this very clear divide when I was imitating Maya Angelou poems. I wasn't fully connected to what my obsessions were at that point. There's this one poem that I wrote that was in a sense one of my "Maya Angelou poems," and yet it actually was about something that I've returned to this year as something that I want to write about and use in the play that I'm writing. It was a poem that I wrote called "Questions About Blackness." It had to do with me being 14 or 15 years old and sort of trying to understand the contradictions of identity within a black experience. And I'm finding that the world has forced me back to exactly these same questions.
I left Detroit to go to school at NYU (New York University) because I wanted to get away. And so I somehow convinced my parents, even though I had a full scholarship to Michigan State, to let me move to New York to go to the Dramatic Writing Program at NYU. I hadn't written any plays or screenplays or anything, but they let me submit a general writing sample. One of the reasons I had even applied was because InsideOut Writer-in-Residence Aurora Harris had read a short story that I had written and she had said that this story you've written feels very cinematic, and asked me if I had ever thought of writing screenplays.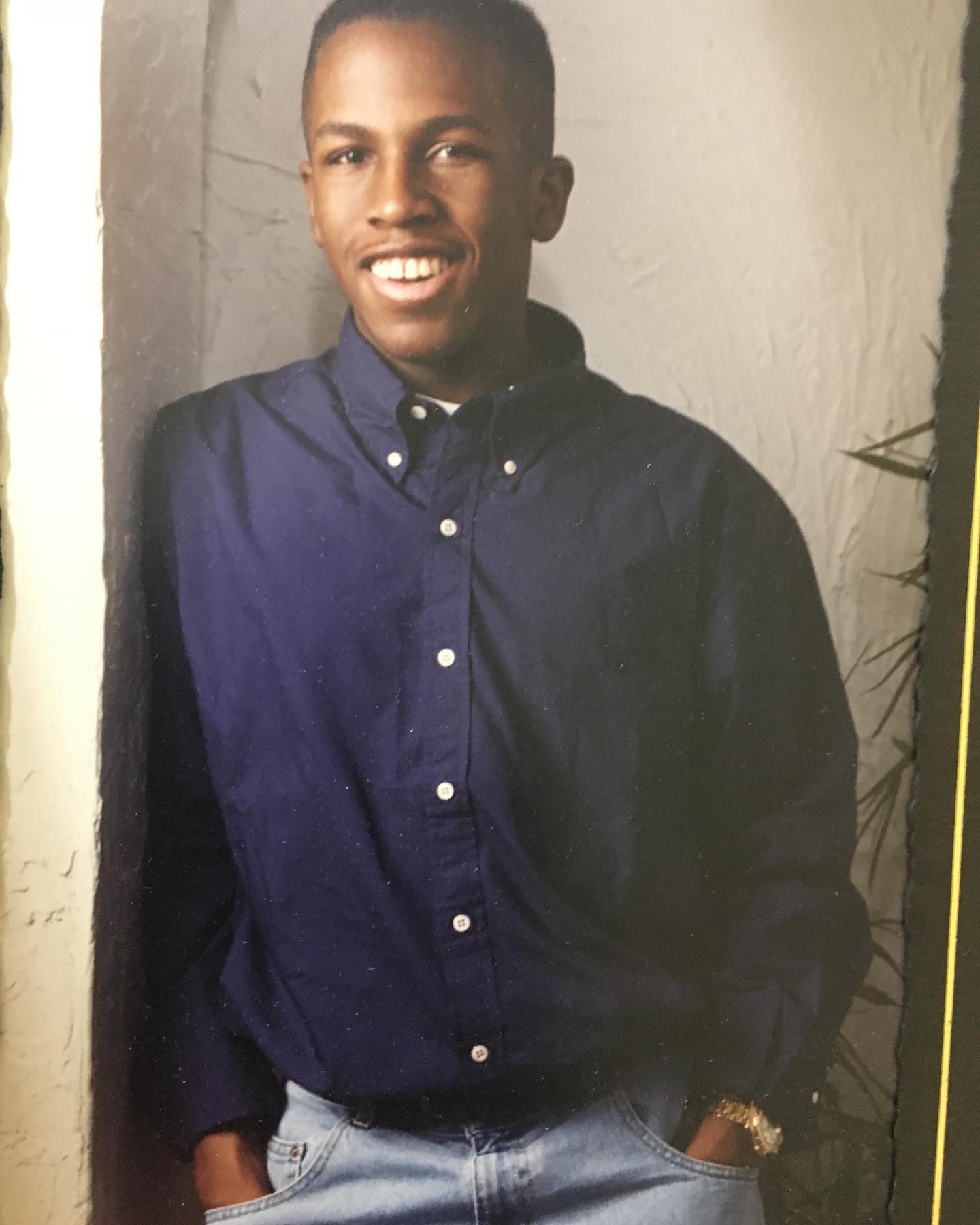 Literally every aspect of my writing career came because a teacher encouraged me. Teachers who pushed me to do things that I ordinarily wouldn't have done set the stage for the next thing that I would do. I always feel the need to express my gratitude to every teacher or instructor or teaching artist who gave me that gift. Because it truly was. I can tell you the whole narrative of my career over a twenty-year process by the teacher who laid the breadcrumbs out for me.
I do remember what my obsessions were as a fifteen-year old which were sex and religion and race. Those were three things that were constantly in some sort of congress in everything I was writing. These obsessions haven't changed for me. I have more of a perspective on those obsessions than I did then, but these things are still very heavy in my work.
If I were to visit a group of writers at Cass Tech, I would begin that conversation by asking them what they are interested in and what their obsessions are. I think that that was a key thing for me on my journey and a question that I continue to ask myself to this day. What do I actually care about? What keeps me up at night? Because that motivates everything that I do artistically.
***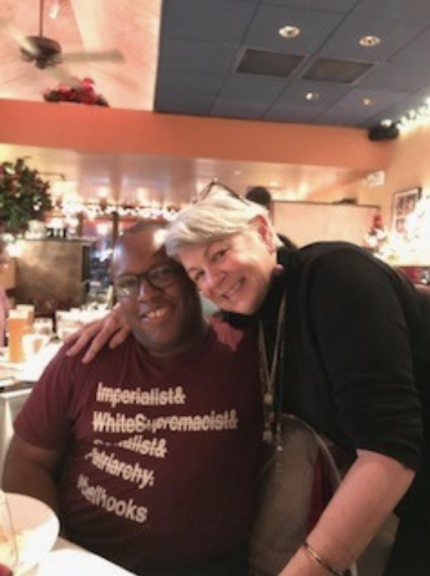 Michael's high school teacher Deborah Thompson shares her recollections as well as InsideOut's sustaining impact on students:
"Michael R. Jackson: an outspoken, quirky, searching and hilarious teenager pushing the limits…those of us who knew him then and taught him cannot of course take credit for his success. But I do know that we nurtured his creativity by hearing and celebrating his unique voice, talent and commitment to hard work.
Teaching kids like Michael is always a challenge. During my teaching day, I had 175 students over 5 class periods. Trying to meet the needs of that many kids is actually impossible. That's just one reason I was so happy to have InsideOut Literary Arts Writers working at Cass Technical High School. Writers who encouraged and validated and challenged Michael during his high school years. I know that as a teacher working with InsideOut, I too was nourished by experiencing one of the greatest joys of teaching, seeing a student like Michael flourish in a safe and supportive space during his high school years. High school can be a tough place for students like Michael whose passions and outspokenness can be crushed by drudgery and the push toward conformity.
Many years later InsideOut continues to make sure that student voices are heard and celebrated. We don't usually have the excitement and pure joy of celebrating a Pulitzer Prize winner, but the daily joy of hearing students' voices get louder and stronger sustains teachers working with InsideOut. Years later students like Michael remember what it meant to be nurtured and challenged as teenagers trying to make sense of the world through writing. That makes me happy every day!" — Deborah Thompson