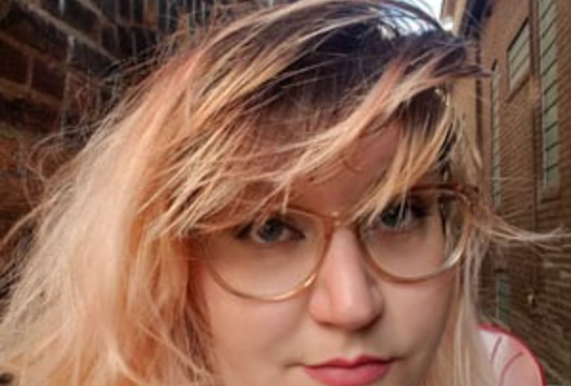 Catharine Batsios
Writer-in-Residence
I want every one of my students to have the weekly reminder that their thoughts are rich, robust, & their brains are unique, & always good enough.
Catharine, a poet originally from Flint, Michigan, is a Writer-in-Residence and Citywide Poets Site Leader who works with 5th to 9th grade students.
This past year, as InsideOut's programs moved to an online model, Catharine's interactions with students looked a little bit different. Here she shares how virtual sessions have still been fruitful and engaging:
I think the Writer-in-Residence & Citywide Poets programs create a space where it's okay again to be yourself on a technological platform. Each time we meet, we're effectively creating content & creating a virtual space driven by their ideas & observations. I'm the one with the mentor text & the poetry prompt, but they are the ones who make it into something we share.

The biggest hit this year was when we looked at two or three videos from the 2019 or 2018 Detroit Youth Slam season. Students were incredibly excited to see poets approximating their age & location on stage performing their own art. The pride & aspiration was palpable, & it motivated students to value their own work & share out in class more frequently.
A safe and productive online space is essential, Catharine says. She encourages participation from her students by utilizing multiple modes and tools of the digital meeting space:
Each session begins with a check-in question which is usually something like 'What weather are you like today & why?' so I can hear from everyone either with their voices or in the chat—it's important that a session begins with open-ness & agency from everyone. Just as important is everyone knowing how we feel as individuals & as a group so that we can acknowledge where our brains are & how we might proceed in conversation & creation.
One memorable moment for Catharine as a Writer-in-Residence this year was a virtual class she led in January 2021 following the insurrection at the U.S. Capitol.
I had an 8th grade class in the morning of January 7—the day after the raid in D.C.—& I threw out my old lesson plan & decided that the first 20 minutes were going to be dedicated to asking questions you're afraid to ask anyone out loud & getting an honest answer & we did a lot of emotional work asking, adding to, & answering each other's questions. We then read/listened to Joy Harjo's "Perhaps the World Ends Here" & talked about who to invite to our table & how to do so safely in varied scenarios.
Teaching completely virtually, however, isn't without challenges, but Catharine says that bringing compassion and trust to each session allowed for meaningful engagement–no matter what that looked like–for each student.
There will be days when no one will talk to you or interact with the material; there will be students who can't unmute themselves to talk; there will be students who don't feel comfortable putting on their camera because it feels invasive to have school looking at their home. Be patient, present, & positive for all of your students every time & utilize all functions—specifically the chat box—as legitimate communication & participation.