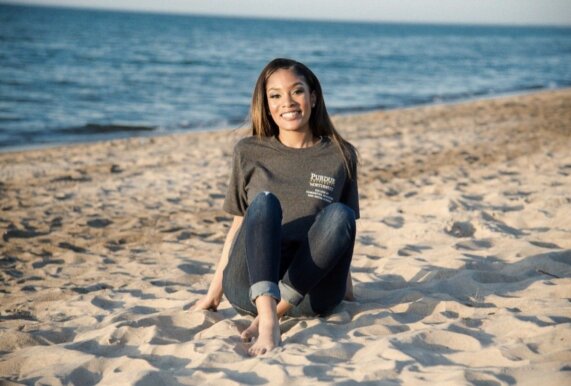 "Mr. Pete taught me that each word is important, and now I see the whole world that way."
InsideOut alum Skye Baso began writing as a third grader in 2008 when Senior Writer Peter Markus became her Writer-in-Residence at Golightly Education Center in Detroit. She took to poetry immediately. "I've started telling everyone about writing and learning to be creative," she told Ambassador magazine in 2011, "Mr. Pete taught me that each word is important, and now I see the whole world that way."
Now she's standing on the other side of the classroom, studying education at Purdue University. "I want to be an English teacher because of poetry. As a teacher, I want to make an impact in young people's lives," Skye says. "I hopefully can give them the tools to love themselves and others, and to be successful."
Skye remembers the pride she felt after writing a poem and sharing it with the class during her years at InsideOut. She felt encouraged and uplifted by the Writer-in-Residence program. "Writing definitely helped me a lot when I was younger. I kept a journal, a diary, a notebook, and a book. I was literally always writing," Skye says. "It helped me express myself about things I was feeling, whether good or bad."
A Needed Recipe

Skye, 2012

Write me a recipe

for I dearly need it

for the many stars in the sky

for the seasons that come and go

and that infectious laugh

write me a recipe

for the turn of left or right

tell me why love is forever

or why the flag waves in the air

the journey of a sock in the wash

for I don't understand so please

write me a recipe

for the pencil I always lose

for the battles I can't win

or the mountain I can't climb

for the birds gliding over clouds

for the lion's untamed mane

write me a recipe.
Being introduced to slam poetry was the next catalyst in Skye's lifelong commitment to writing and learning. "After my performance [at the Detroit Institute of Arts], I went and sat in the audience. I watched in awe as people came onto the stage and recited from memory these long, emotional (and sometimes funny) poems. I had never seen or heard poetry that way. I had to ask Mr. Pete what they were doing and he told me it was called slam poetry. From then on, I was obsessed." Skye went on to compete in Louder Than a Bomb Youth Poetry Festival in Chicago. Since Skye's days at InsideOut, there is now a Louder Than a Bomb Festival right here in Detroit!
"Not a day goes by I don't think about everything you did for me. You have no idea how grateful I am!" Skye wrote to Senior Writer Peter Markus in 2019, a decade after the magic of poetry came into Skye's life in the third grade. "I would not be the person I am today if I hadn't been introduced to poetry. It has made me more open-minded and empathetic, patient and understanding."
We can't wait for the magic that Skye will bring to the classroom, but our belief is strong that it all started with curiosity, a paper and pencil, and a Writer-in-Residence passionate about the power of language in a child's life.