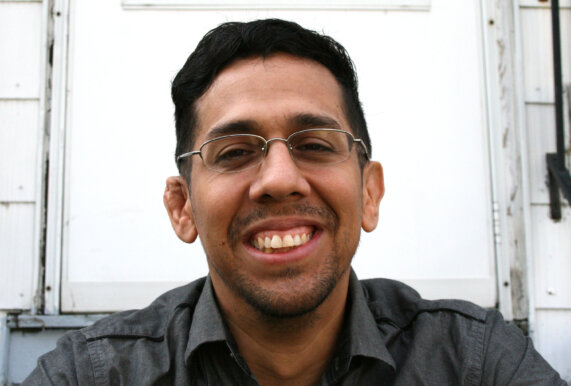 There are a lot of reasons for students to tune out or seem uninspired. The real key is for me, the teaching artist, to be a lighthouse, steady in shining the light for them to come to shore if they can.
Rey is a writer and musician who lived in cities all across the U.S. before coming to Michigan. As a Writer-In-Residence, Rey draws from those experiences, his history, and his identity to connect with and guide his students. Rey describes the importance of encouraging students to reflect on their own histories as part of the InsideOut experience:
Whenever we write, I want students to understand where they came from and where they are going. To know our history, either collectively or individually, is to know where we are going. I think it is important to find a place where we can have these sometimes painful explorations in order to move forward; to put these emotions into words is part of the process of becoming not only a poet, but a well-rounded individual.
By incorporating the voices and experiences of other poets into his lessons, Rey inspires his students to think broadly and understand their own identities:
Poetry is self-discovery. It is a process of figuring out the complexities to our identities.

One of my favorite poems to examine is "Bi-racial Hair" by Zora Howard. She exudes energy, compassion, raw feeling, honesty, vulnerability, and paints an elaborate picture all stemming from her hair. Simple, but expressive and imaginative in describing 1) who she is 2) where she comes from and 3) what she is not.

To see beyond their neighborhood, to think beyond the immediate environment is something I constantly challenge students to do. Zora Howard does this exceptionally well, and she does it with passionate vigor as well.
(Below: Rey's lesson plan for "Bi-racial Hair")
Rey says that InsideOut's online model has been especially important during the COVID-19 pandemic as it provides a virtual space for students "to dream, communicate, and connect with each other." However, he also understands that the challenges to students are very real:
Being a Writer-in-Residence, I was able to guide students through the complex emotional torrent of having a world turned upside down. Sometimes, the real challenge is not overcoming the lack of control to a global pandemic, but finding the right words for how it makes us feel. InsideOut gives students the tools and opportunity to find the words and show the power words can have.

In the world of COVID-19, our traditional in-person world had to be put on hold, so one of our lessons focused on New Worlds–creating a world that they could be happy in, where everyone could be happy. I think it's important to see the future as something tangible–something we can shape. Part of the process for catharsis is building hope, even if it is in a fictional world.
As one of our Writers-in-Residence, Rey had the opportunity to take part in InsideOut's trauma-informed professional development this year. He describes how that experience has influenced his teaching and perspectives in the classroom:
The trauma-informed practices we had this year were amazing, informative, and transformative. Developing empathy and reaching beyond our "known" realms creates an opportunity to understand where others stand. Everyone carries their prejudices, perspectives, assumptions, but the training sessions gave us tools to shift conceptions outside our bubble. It widened my peripheral and strengthened my patience, understanding, and compassion; students, as well as teachers, have had to adapt to great change on top of already existing struggles. I think it's important to recognize that there are a lot of reasons for students to tune out or seem uninspired. The real key is for me, the teaching artist, to be a lighthouse, steady in shining the light for them to come to shore if they can.