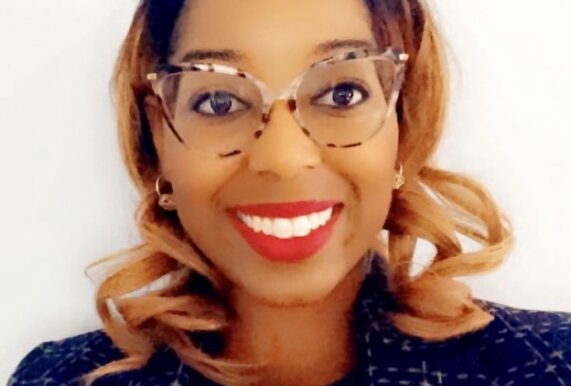 "InsideOut was a launching pad for a lot of my career."
Talitha Johnson was a student at Detroit's Mackenzie High in 2000 when InsideOut's Writer-in-Residence program came into her life. Today she is a Marketing Manager at the Detroit Regional Partnership, a regional economic development organization, and a community herbalist.
Talitha grew up on the west side of Detroit in a neighborhood that, like much of the city, suffered from disinvestment. In her diary from that time, she witnessed the many challenges her friends and peers faced.
I remember my mom telling me "Just be grateful because someone else has it worse than you," and it's unfortunate when that has to be your comparison. I would look around and see that other people did have it worse, and I would write about that. What is it like to have situations that were way worse than mine? I had home-cooked meals – what's it like when you go home and there is no one there? These are the kids I'm playing with, these are my friends, these are my peers. I was just writing what I saw.
Talitha was an advanced student, but she struggled to imagine what her future would look like.
Speakers would visit the school and tell us, "If you pay attention and stay in school and do the right things you could be like me," and I thought, "I can't relate to that – yeah, right." Even though I had a passion and fervor for my future, it was such a distant reality. It was hard to see myself in that for REAL. Even though I kept fighting for it, it was difficult to see that someday that could be me.

I had no idea what was next, and I felt so unprepared. I didn't know the questions to ask. I would go to the counselors office after finishing my assignments. If I just put myself in the right place, hopefully something would happen. The vice principal saw that I was passionate – I could've gone any direction but fortunately it went down the avenue of poetry. I had a lot to say. I had a lot on my mind.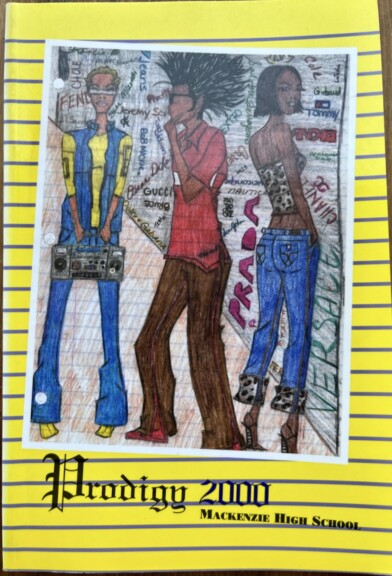 The vice principal at Mackenzie High placed Talitha in InsideOut programming with Writer-in-Residence Vievee Francis. Talitha's time in the program helped her dreams come into focus and allowed her to see a career in the arts.
What I loved about Vievee is she had that free spirit in the same way that I did. It was like a look into the future. In my neighborhood I didn't see people that resembled how I felt on the inside. I was like, "Oh wow, a literary writer! She reads books and is into art and culture." What I loved about her was that she understood us. She understood me in particular, without being condescending.

Before InsideOut my writing was abstract. InsideOut helped me to have structure and organized thinking around my writing pieces. They would give us a space to freewrite. It allowed us to air out our thoughts to make room for creative thinking. I still use that to this day.
The greatest impact for Talitha was finding a community of creative students like her. InsideOut gave them space to explore, dream, and build a supportive community.
I'm still friends with people I met at InsideOut to this day. Across the hall from InsideOut there was a program for photography. I thought, "Wow, there are others like me!" I didn't know about how photos or words got into magazines. I didn't stay a poet, but I feel like I met my tribe when I joined InsideOut. Through InsideOut I realized that you can make a career in the arts. I even co-founded a poetry group called Black Ink with other former InsideOut poets. Black Ink led to all of us becoming what we are today.

I discovered that you can study interior design, which is what I wanted to do at first. Then I found Public Relations (PR), and if you are a poet, PR is a nice happy medium for you. It's been history ever since – I traded one type of creative writing for another, and InsideOut was a launching pad for a lot of my career. I've since worked with some of the biggest agencies in town. I do a variety of writing throughout my career from speech writing to blog posts, to press releases, to social media, to TV and radio. You name it. I have to give credit where credit is due – it all started with InsideOut. None of that would have happened if I didn't have the space and the place with InsideOut.
Despite having a positive relationship with her Writer-in-Residence and finding value in the program, Talitha emphasized that organizations must understand the context that many Detroit students live in so they don't unintentionally perpetrate the power imbalances they seek to correct.
When it comes to working with urban kids, a key takeaway is to understand their environment. We came from a mixed up environment and didn't know how to make sense of it all – we were doing our best. It takes all of us in community to hold each other when we aren't at our best and to get each other on the right track. This is a message to other organizations that want to help urban communities: serving communities of color sounds good on paper until you have to do it – and doing it is hard when you don't come from those communities. I want to drive that point home.