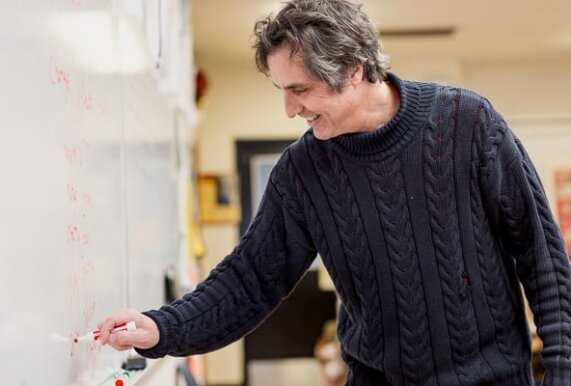 What I found, in teaching this workshop, is that poetry is something that matters, that helps us make sense, that gives us the permission to say what we might not otherwise say.
Senior Writer Peter Markus has worked with youth in Metro Detroit classrooms for 25 years, but in 2022 he had a new assignment: lead a writing workshop with patients, caregivers, and health care workers at the Henry Ford Cancer Institute. This was part of InsideOut's Poetry for the People programming designed to demystify poetry and engage new audiences in the ways that language can connect to and enrich their lives. As Pete described the six-week virtual workshop, "This was in the spring, and so those sessions were spent looking out the window at blue skies. That said, what was happening inside was something even more beautiful."
In addition to reading, writing, and sharing, participants also received a copy of Pete's new book of poems, When Our Fathers Return to Us as Birds (2021), which centers on caring for his father at the end of his life. Here, Pete shares with us about the poems that inspired the group in this unique workshop and how poetry offered a release valve for the many feelings around illness and caretaking.
I wanted to be prudent about pushing the subject onto these writers, some of whom were cancer patients, some of whom were caregivers, others of whom were hospital staff. I brought in poems by other poets who've written about cancer before, Jack Gilbert and Jane Kenyon, Donald Hall, John Rybicki. But I also wanted them to find their own way to their subject, so to kick things off I led them through a guided writing exercise where every few minutes I'd give them the beginning of a sentence and they could do with it whatever they wished. If they wanted to go heavy, they could go heavy. If they wanted to seek out joy or light, that was also always an option.

I brought in a poem by Rafael Campo, a poet-physician who has also led hospital-based writing workshops like this one, as is evident in this poem of his called "Hospital Writing Workshop." In this poem, Campo talks about how he asks students to simply describe an "object right in front of them," a seemingly innocuous task, and how all objects in this instance lead to death. A heavy truth, one that I wanted to put out there, to give a kind of permission to go there, if writers wanted to. There was the solace of being together, of coming together, of spending a mere 90 minutes talking seriously about poetry and the way poetry is or can be a part of our lives.

I was moved by one participant, Cynthia, who made it clear to us her struggles as caregiver and the fact that she has very few people in her world to turn to and to talk to about it. I think she leaned into this group in the way that any group is made to be leaned into. "My heart is heavy," I remember her telling us. "I need to be served too." She was asking the group if it was "okay" for her to be feeling this way, and not just feeling this way but also was it okay to write about, to tell about it.

The group responded:

"Write it!"

"It's for you!"

"No feelings are wrong!"

The next week, I received this email from Cynthia, along with her poem, "I Write," which I've included below with her permission. "I wrote this after I spoke to the class. I can't thank you enough for hearing my cry. I am forever grateful." I am forever grateful in return. Here is Cynthia's poem: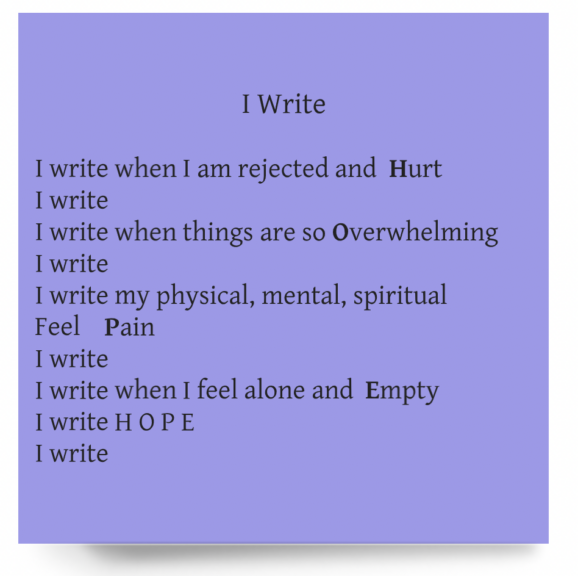 I teach because of poems like this, because of people like Cynthia. They give me hope.

We ended with the notion of poetry as a kind of prayer. "Let Evening Come" by Jane Kenyon, a poem of acceptance, of letting things be and to be not afraid, and a poem by Danez Smith, "little prayer," that begins, "Let ruin end here," and ends, "Let this be the healing."

One participant, Jean, gave us this, her own small prayer, scribbled on a Post-It note: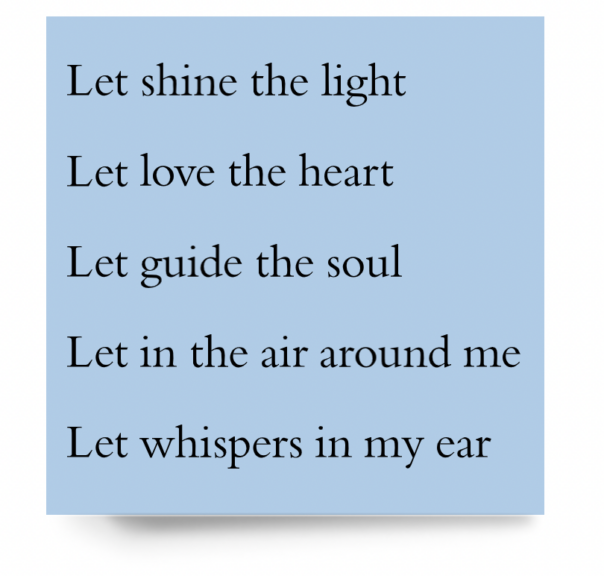 As Yaman, one of the workshop participants wrote to the class after: "The class was a really good reminder for me that there's a writer within that I need to nourish. Listening to everyone share their thoughts, experience and wisdom through poetry inspired me to pick up where I left off many years ago."

What I found, in teaching this workshop, is that poetry is something that matters, that helps us make sense, that gives us the permission to say what we might not otherwise say.

What I most have to say back is a simple "Thank you."