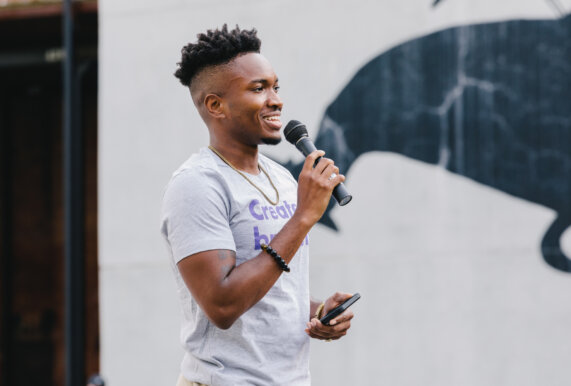 "I believe creativity requires agency. More than the poetry, editing, and self-awareness skills the Writer-in-Residence Program provides students— I find that the creative independence we afford them to be deeply impactful."
Kweku Abimbola brings his experience as a poet and University of Michigan Civitas Fellow to the InsideOut Writer-in-Residence program. His first book, Saltwater Demands a Psalm, was awarded the 2022 Academy of American Poets first book prize. During his residency he was working toward his MFA, and he found that working with elementary school students influenced his own work.
"InsideOut saved me from much of the intellectual performativity that comes with grad school, and reminded me of the tangible impact poetry can have, especially on young minds. My first classroom experience with InsideOut came teaching 2nd and 3rd grade. As such, the whimsy and curiosity of my students encouraged me to take more creative risk with my work and infuse my writing practice with as much joy as possible."
Kweku feels that writing and performing poetry has helped him grow and overcome challenges, and he is proud to encourage and guide the next generation of artists as they learn to share their poetry with their communities. He describes a particular memory where he was able to pass on some of his wisdom to his students.
"During an end-of-year ceremony we held at Oak Park, I had the chance to give my students a final pep talk on public speaking/poetry performance before they read for the class showcase. I grew up with a speech impediment, and performing poetry helped me overcome my fear of public speaking. As such, each opportunity I get to train students in public speaking hits really close to home. At the end of the performance, I was so impressed with the poise and confidence with which each student read."
As an educator, Kweku works to provide a welcoming environment for his students. He is familiar with the vulnerability of reading work aloud for one's peers, and he works with students to find their creative voice and be more comfortable sharing their writing with others.
"If I could go back in time and give myself advice as a first-time teaching artist it would be to never rush community building. In the midst of a residency sometimes it can feel like a rush to get through all of the material before publication. But I've found that the most productive and nurturing residencies I've led grew from a foundation of knowing my students beyond their work on the page.
"At the beginning of my residency, I was privileged to meet Marquise (pseudonym).While he didn't participate much in class initially, his writing was truly outstanding. After reading more of his work, I began to encourage him to share. At first, he refused to read his work out loud, but agreed to let me read it to the class as long as I kept his identity anonymous. I'll never forget the first time he finally agreed to read his work to the class. It was after a lesson on hip-hop and rhyme, and he penned and performed one of the illest 16's I ever heard. It was a joy to see him bask in the applause and positive affirmations he received from his classmates."
Outside of the classroom, he also worked with community members through InsideOut's Poetry for the People events. He was awed by the courage and creativity people shared at these events, and described one particular memory.
"I love the inter-generational audience that Poetry for the People draws, as well as the exchange of poetic energy that occurs in these spaces. One of my favorite Poetry for the People events was held last summer at the Dequindre Cut. Attendees had the chance to engage with postcard poems, jigsaw poems, collaborative songwriting, and even an open mic. I was so moved when a six-year-old attendee stepped up to the open mic and performed a piece that they'd written earlier in the event. It showed me that poetry is in very capable hands, with a new generation ready to bless the mic and blaze the page."