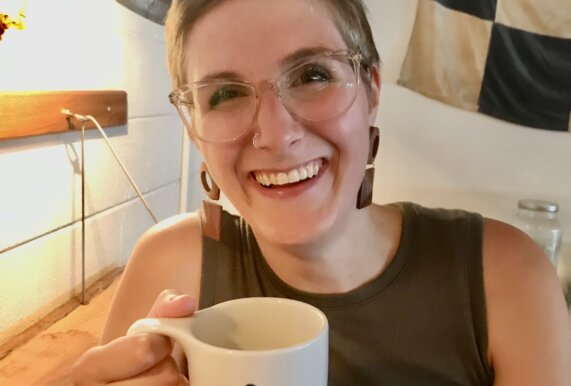 One of my writers said, 'This sets my whole week up right.' That became our mantra, our through line. It was the participants' commitment to showing up, the generous trust they put in me, and the kindness they showed to one another that laid the foundation for this group.
The Luella Hannan Memorial Foundation (Hannan Center, formerly known as Hannan House) was founded almost 100 years ago to preserve the dignity and enhance the quality of life of seniors in Michigan. InsideOut began leading virtual poetry workshops with seniors at the Hannan Center in 2021 as part of the Poetry for the People initiative. Poetry for the People, launched in conjunction with InsideOut's 25th Anniversary, is a series of workshops, installations and performances in neighborhoods across the city designed to demystify poetry and engage new audiences in the ways that language can connect to and enrich their lives.
Suzanne Honda, a Writer-in-Residence with InsideOut facilitated the second convening of Hannan senior writers last Fall. Suzanne is a Michigan-born poet, fiction writer, and educator (learn more about Suzanne here). With her previous focus in childhood education, Suzanne was curious about how lessons would translate to a group of older Detroiters.
Going into this residency, I had no idea what to expect – I had never taught a classroom of adults before!…One thing I believe, though, is that art is communal. Writing is communal. Working for so many years with three and four and five year-olds, I came to the fervent belief that we really just keep learning the same lessons over and over again, and that everything we need to know about human life – about kindness, equality, empathy, love – can and must be boiled down enough to be palatable to a child.

Which is to say, I brought in the same lesson plans I'd take into 3rd grade classrooms. We looked at some of Krista Franklin's work. We read poems by Aja Monet and Li-Young Lee and Sandra Cisneros. We talked about childhood, and food, and the meaning of our names. What changed wasn't the content – it was the depth of conversation.
In a short reprieve during the COVID-19 pandemic, participants were feeling the isolation familiar to so many of us. Suzanne let the group set the tone so the workshop could meet their needs.
At Hannan Center, my writers spent a lot of time reading aloud. The physical act of hearing another human being read was so calming that we started making extra space in our classes to just listen to one another. To be reminded that we were not, actually, alone, even if we were separated physically.

If I've learned anything as a teaching artist in the past few years, it is that what most people need, more than anything, is joy. There's so much trauma around us, it's ubiquitous; and so, I went into the residency at the Hannan Center with an open mind. I prioritized conversation, trusting my attendees would take us in the directions they needed to go. I brought in works dealing with broad themes so that they allowed room for interpretation: food, family, memory, identity, imagination. I used Visual Thinking Strategies (a way of teaching designed to focus on perspective and authentic listening) to facilitate discussions. On the whole, I found the Hannan Center poets choosing laughter, choosing joy.
An excerpt from a poem by Edna D. Perry, a participant in InsideOut's workshop with the Hannan Center:
To celebrate the culmination of the Hannan Center program, InsideOut envisioned a virtual performance that would bring elders from the Hannan Center and InsideOut's Performance Troupe together to read original work and share in the power of their unique voices and experiences.
This may actually have been my favorite moment at Hannan. I cannot overstate how powerful this evening was. Everyone was, I think, a little nervous to perform. The groups did not know one another. And yet – and yet – poetry is powerful. We filled every single moment of that hour-long performance, and then some, with love poems, and food poems, and vaccine raps, and readings of poems we'd discussed together in class. There we were, on a cold November evening, each of us staring at our screen, lighting it up. We were all human beings, together, celebrating one another, cheering one another on, laughing together, sighing together, smiling, tearing up.

Everyone thinks virtual life will destroy us – but the thing is, humans are resilient. We not only crave connection, we actively seek it out, whether we realize it or not. Every single one of us has, within us, the ability to be creative. To connect with others. Being a part of that intergenerational poetry performance only solidified what I already knew: poetry is what binds us together.

Working with the Hannan Center, creating an opportunity for teens and senior citizens to come together, it's the best of poetry, the essence of metaphor: putting two unlike things together in order to create something new, something brilliant.