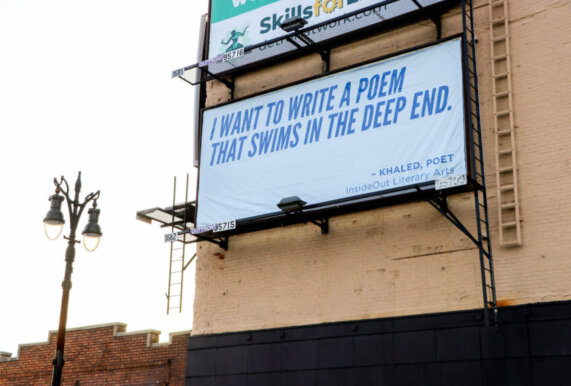 In celebration of our 25th anniversary, InsideOut created
Poetry for the People
– a series of workshops, installations and performances in neighborhoods across the city designed to demystify poetry and engage new audiences in the ways that language can connect to and enrich their lives. After being delayed due to COVID, Poetry for the People has relaunched in 2022!
Poetry for the People has relaunched, and I recently experienced a remarkable day that shows what happens when new audiences are connected to the power of language in experiences tailored to their unique needs.
Recently, the Detroit Parks Coalition commissioned a poem celebrating the role of outdoor spaces in our lives. It was written and read by one of our Writers, Kweku Amibola, at the Coalition's launch event at Eliza Howell Park in Northwest Detroit in April. The poem, which drew inspiration from outdoor ceremonies in Kweku's home country of Gambia, beautifully set the tone for the program which brought together community members to celebrate the beauty of Detroit parks and plan for the future.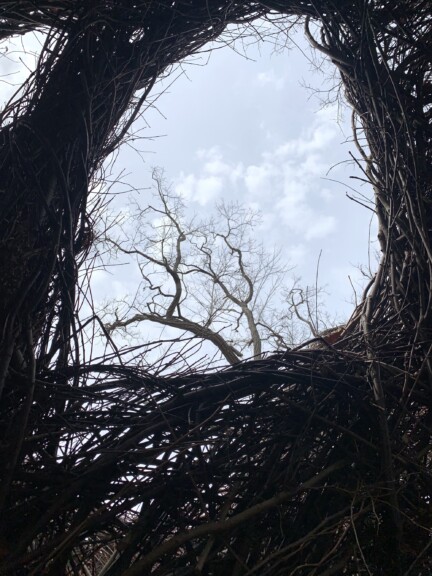 Later that evening, as part of our ongoing writing residency with the Hannan Center for senior citizens in Detroit, we had a culminating reading for our workshop series focused on protest poetry. At the celebratory event which included audiences in person and via Zoom, a participant shared a moving poem she wrote about Tamir Rice. When she read it, she mentioned how good it felt to write poetry again. She hadn't written a poem since she was 14 (she was 72!). The residency at Hannan Center continues to enrich us all and shine a light on the power of what InsideOut does for all audiences.
Later that same week, I drove past InsideOut student poet Khaled's jaw-dropping line of poetry, "I want to write a poem that swims in the deep end," displayed on a billboard in Eastern Market. This is one of seven billboards we've installed across the city to inspire, delight, and celebrate the power of poetry in our everyday lives. (You can visit the billboards using this map).
We're not nearly done with Poetry for the People in 2022.
We have in store community events as part of our Sounds like a job for… a POET! project, where local individuals, community groups, and businesses pitched projects for poets that would enhance their upcoming event or meeting. We received many compelling ideas. Lookout for some on the spot poetry at KickstART Gallery in Farmington this Thursday (April 21st) from 6-7:30 PM, and Saturday, April 23rd at 1 PM you can catch spoken word star, Mahogany Jones at The Henry Ford performing at the exhibit Apollo: When We Went to the Moon.
Also coming up this month in partnership with Shakespeare in Detroit is our first ever Sonnet Slam on April 26th! The event will replicate the feel of a poetry slam with a friendly competition between poets reading both Shakespearean sonnets and those from more recent times. Meant to showcase the enduring power of this poetic form and celebrate poetry month, this free event will feature complimentary refreshments and is open to all ages!
Later this summer Poetry for the People will shine in outdoor spaces like the Dequindre Cut Freightyard, the Detroit Riverfront, and many more.
Want to be the first to know about these events? Sign up for our once monthly newsletter for all the details.
I can't wait to share these experiences with our community. See you soon.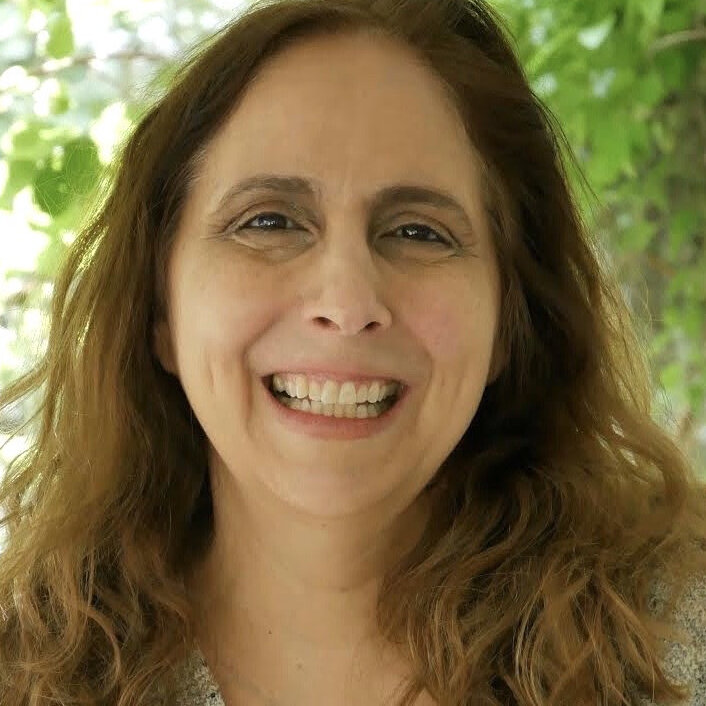 Alise Alousi
Director of School & Community Partnerships