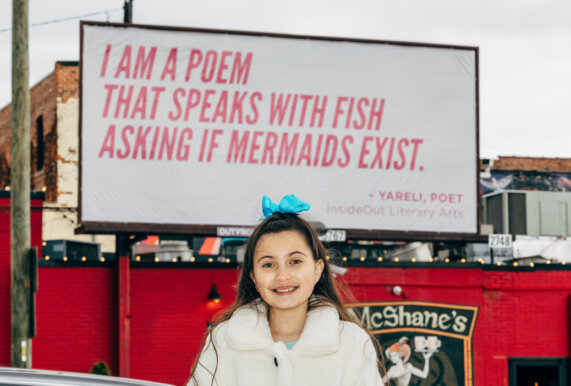 "To feel that somebody enjoys reading and getting inspired by the things that I made is awesome. I feel like an author now."
10-year-old Yareli, a student in our Writer-in-Residence program, recently saw her own writing on a billboard in Corktown as part of Poetry for the People–an initiative designed to showcase poetry by students in new ways throughout the community and engage audiences in the ways that language can enrich their lives.
Senior Writer Peter Markus sat down with Yareli to ask her about her experience writing with InsideOut and what it was like to share her thoughts with the world.
The sentence I least expected to win, to end up on a billboard, won. All the craziness that I used: "I am a poem that speaks with fish asking if mermaids exist." My dad laughed at the sentence.

Writing with Mr. Pete was a really fun experience. I liked writing about anything that just popped inside my mind. I liked that we get to choose what we write about and can add details. The details describe important things about the things you're talking about. Kids who think poetry is boring, I respect their opinion, but they're missing out on a lot of fun and personally I think they're wrong. InsideOut is a really fun program for kids ten and up. When I talk about my experience with my brother, who is eight, I think he's a little jealous. Maybe because his words aren't up on a billboard.

I'm going to be honest with you, Mr. Pete, When I was in first and second grade, I liked writing because you only had to write a few sentences. But when I got to third grade, no offense, Mr. Pete, but I started to get bored. I hit a wall. What Mr. Pete did to get me over that wall was he inspired us and gave us ideas. When we listen to other kids' ideas it gives us more inspiration. Because it's just sharing, and sharing is caring, you know. And it feels good to actually do it.

What feels good as a fifth grader who is writing is that you have more sophisticated writing. That's for sure. Also, in third grade, you just want to share all the time. You weren't embarrassed to share or anything. But now, what I've started to see is that as you grow older the shame grows too. And when you share yourself, you might feel embarrassed at the start, or unsure if it's going to end well, but when you're done you feel a sense of relief that you actually made it through it and people actually liked your writing.

To feel that somebody enjoys reading and getting inspired by the things that I made is awesome. I feel like an author now. And I'm going to be an author now.